Loved Ones Laid to Rest with Full Dignity and Complete Satisfaction!
Detroit Memorial Park Association, Inc.
Boasts three parks on over 170 acres with a handsomely funded Perpetual Care Fund to ensure your loved ones will buried and cared for with dignity, all while being affordable to your family. We offer a wide array of services and products, coupled with our compassionate staff for ease of decision making for your family.  There are several specialized sections for Family Estates, Veterans, Children Gone Too Soon, and many Famous and Notable burials of celebrities, politicians and other significant historic figures, which prompted the State of Michigan to deem our parks an Official Historic site.
History Makers
  Such notable burials include….
Detroit Memorial Park Locations
Loved Ones Laid to Rest with Full Dignity and Complete Satisfaction!
Three Locations • Over 170 Acres
Our team of caring individuals adhere to the highest standards of ethical and personal service. We aim to anticipate the needs of families in mourning by exceeding the expectations of our guests and visitors. We lead with a spirit of service and are here to assist you and your family in a great time of need.
East Cemetery
4280 E. Thirteen Mile Rd • Warren, MI. 48092
three mausoleums
The Heritage Mausoleum, The Eternal Love Mausoleum and the Peace Chapel Mausoleum.
West Cemetery
25200 Plymouth Road • Redford, MI. 48239
Recently renovated
A new entrance, gates, re-asphalting roads, addition of a Committal Chapel & the expansion of mausoleum.
Gracelawn Cemetery
5710 N. Saginaw Street • Flint, MI 48505
You are invited
to come and see us, to discuss the special advantages of pre-planning with the Gracelawn staff.
Our Mission
Detroit Memorial Park Cemetery, established in 1925, is dedicated to providing professional, dignified and caring service to the metropolitan Detroit community. Our founders envisioned a resting place of beauty which exemplifies those properties, in a setting of peace and serenity forever.
Coming Soon to Detroit Memorial Park West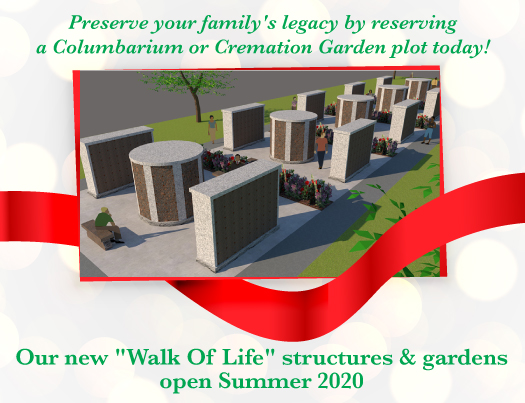 Park Holidays
We encourage family and friends of those buried in our parks to visit throughout the year.
Christmas Tree Lighting:

At our East and West locations we offer an annual tree lighting ceremony where families can place ornaments on our Park's Memorial Tree in remembrance of their loved ones.